RE/MAX Coast and Country Real Estate
RE/MAX Coast and Country is here to help you achieve your real estate goals in this beautiful region. With the team's unparalleled knowledge and experience, you will have all the advantages you'll need for success in this market.
This website was created to serve as your portal to the exciting Southern Oregon real estate market. If you're a buyer or investor, browse RE/MAX Coast and Country's extensive listings to find the perfect home or investment property. If you're a seller, get information about the market and find tips to help you effectively reach out to the right buyers.
Get to know the RE/MAX Coast and County team and discover what we can do for you.
YOUR SOUTHERN OREGON REAL ESTATE TEAM!
RE/MAX Coast and Country specializes in Brookings, Harbor, Gold Beach, Bandon and surrounding Southern Oregon Coastal real estate. We area franchise division of RE/MAX International, the No. 1 residential real estate network in the country.
The team's alliance with the prestigious RE/MAX organization has boosted ourreach and capabilities through RE/MAX's extensive network opportunities and cutting-edge marketing tools.
RE/MAX Coast and Country was founded by Marie Curtis, the company's principal broker. In her 10 years of experience in real estate, Marie has received various recognitions for her achievements, including Top Producer and winner of the 2009 People's Choice Awards. She's also a recipient of RE/MAX's Platinum Awards and was recognized in 2015 in RE/MAX Hall of Fame.
Southern Oregon Coast Real Estate
Paradise is the perfect word to describe the Southern Oregon region. Home to majestic mountains, verdant valleys, and raging rivers, it is every outdoor lover's dream destination. Its rural areas will take you to another place and time, while its valley and desert offersmodern attractions likemalls, theaters, galleries, and festive events.
Southern Oregon is also home to wonderful communities that offer a great quality of life. Among the most desired properties in the area are Bookings, OR real estate, Gold Beach, OR real estate and Harbor, OR real estate. RE/MAX Coast and Country is proud to represent some of the finestproperties in these communities.
Homes for Sale in Brookings and Homes for Sale in Harbor
The coastal city of Brookings, along with the community of Harbor found right across the Chetco River, is a highly sought-after community byeveryone from young families to retirees.
Homes for sale in Brookings come in a wide range of sizes, prices, and architectural styles. Waterfront homes with private beach access command the highest prices. Homes found further inland offer excellent value with their significantly lower costs, while being only a few minutes away from the beach.
If you're looking for even better value, the homes for sale in Harbor make great options. They come in a wide range of sizes and architectural styles to match different buyers' needs and preferences, at generally lower prices than homes for sale in Brookings.
Homes for Sale in Gold Beach, OR
Gold Beach is a true haven for nature and outdoor adventure lovers. It's the site of the famous Rogue River and Pistol River, as well as some of the most beautiful coastal sceneryin the country.
Located in tranquil neighborhoods with stunning views, the homes for sale in Gold Beach are among the most desired in the region. Property types range from more affordable condos to luxurious estates with excellent beach access.
Make your dream of owning a Southern Oregon home come true. For all your real estate needs in the area, get in touch with RE/MAX Coast and Country today!
Address
Brookings: 703 Chetco Avenue Brookings, Oregon 97415
Harbor: 16218 W. Hoffeldt Brookings, Oregon 97415
Phone
Brookings: 541-412-9535 or 541-40-REMAX
Harbor: 541-412-3000 or 541-69-REMAX
Email
remaxcoastandcountry(at)gmail(dotted)com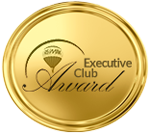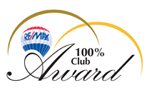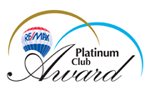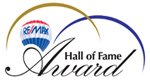 Testimonials

Both my husband and I were pleased with Marie Curtis's representation of us in the sale of our home. I chose Marie because in the eleven years I lived in that small rural area, I came to know and observe most, if not all, of its realtors and their companies. From this observation, Marie's record was quite impressive. When we first met, Marie came prepared with a long list of comparable homes in our area. She gave us excellent advice as to when to list our home, and explained thoroughly... Pamela N.
Remax is the Best way you can go with real estate! Marie and her crew are amazing and knowledgeable! They have great positive attitudes throughout the entire office! No matter if your buying or selling this is the place to go but dont take my word for it call them and see for yourself..All you get is positive from start to finish! I personally was looking for a real estate agent in brookings while still living in las vegas i called probably 10 Realtors and only two called back and... Jamie C.
Just wanted to let you know, we love our new home at Brookings-Harbor! It all started with a question and a phone call. Then by you helping us every step of the way and your KNOWLEDGE in Real Estate, We think you gave us the best deal in town! A very Special Thank You. From Peter and Elizabeth... Peter & Elizabeth P.

Get In Touch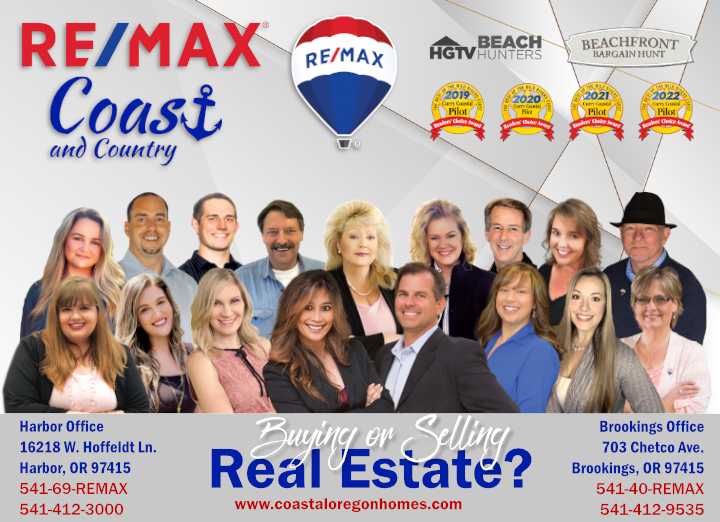 RE/MAX COAST AND COUNTRY
BROOKINGS-HARBOR, GOLD BEACH, PORT ORFORD, BANDON AND SOUTHERN OREGON COAST REAL ESTATE
541-412-9535 (Brookings)
541-40-REMAX (Brookings)
541-412-3000 (Harbor)
541-69-REMAX (Harbor)