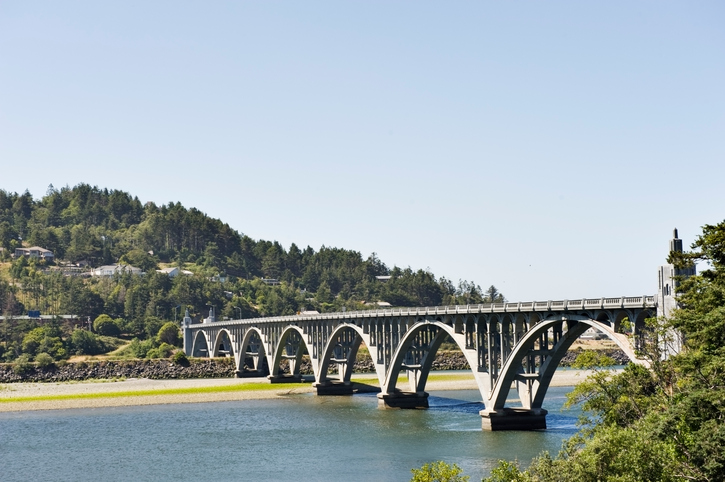 The city of Gold Beach is one of the Southern Oregon coast's many treasures. The county seat of Curry County, Gold Beach boasts breathtaking natural attractions that draw thousands of visitors to the area every year.
Gold Beach was given its name by 1850s miners who found gold on the beach near the Rogue River's mouth. Over the years, the city's main industry had evolved from mining to commercial fishing to lumber. But as more and more people discovered the endless outdoor opportunities the city has to offer, tourism and services gradually emerged among its major economic sectors.
Living in Gold Beach
The famous Rogue River meets the Pacific Ocean in Gold Beach, giving residents and visitors a wide range of options for water adventures. In addition to Rogue River, Gold Beach is also home to a number of tributaries that provide rich grounds for salmon and steelhead fishing – a popular activity in the area. Rafting, boating, swimming, and beachcombing are also favorite pastimes in the city.
In addition to its water features, Gold Beach is home to vast forests and rugged mountains, offering miles and miles of scenic trails. The beautiful natural surroundings provide picturesque backdrops to excellent golf courses like the 9-hole Cedar Bend Golf Course. And with the year-long mild weather and the highest "total sun hours" in the region, virtually every day in Gold Beach is a good day to experience the great outdoors.
Gold Beach boasts several highly rated schools, including Gold Beach High School and Riley Creek Elementary School, making the city a popular choice among families with young children. It is also the preferred home of many retirees who love the city's laid-back lifestyle, recreational opportunities, and spectacular setting.
Gold Beach Real Estate
With a backdrop of lush forests, mountains, and various water features, almost any spot in Gold Beach is a good place to call home.
Gold Beach homes range from affordable condos to grand estates sitting on large acreages. Homebuyers have a choice of coastal or mountain properties, with ocean, river or hilltop views. These homes come in a wide range of sizes and prices, offering something for everyone.
Beachside properties command some of the highest prices in the city. Homes found further inland come at more affordable prices while being only minutes away from the beach.
The ranch architectural style is popular in Gold Beach. Most homes have been designed to allow optimum enjoyment of the surrounding views, with features like wide terraces, decks or patios, large glass windows, open layouts, and even sunroofs or skylights. They sit on large lots that open out to the majestic outdoors.
Attractions and Amenities
The ocean and the Rogue River offer some of the best salmon and steelhead fishing in the country and the world. Fishing charters are available to guide you to the best spots on the river or to bring you out to the open sea.
Other adventure and scenic spots in the Gold Beach area include:
Pistol River Scenic Viewpoint

Samuel H. Boardman State Scenic Corridor

Buffington City Park

Illinois River Trail

Wild Rogue Wilderness Area
Shopping in Gold Beach is a completely unique small-town experience. Shops you shouldn't miss include:
Jerry's Rogue River Museum & Gift Shop

Gold Beach Bookstore

Wild River Art Emporium & Three Wishes Beads

Fishermen Direct
Gold Beach is the perfect place to savor the freshest seafood and seasonal food in restaurants like:
Anna's – by the Sea

Barnacle Bistro

The Chowder House
Sorry we are experiencing system issues. Please try again.