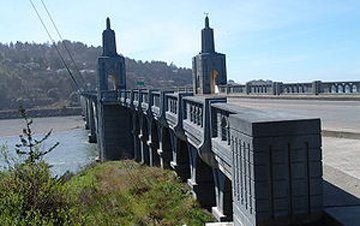 Homes For Sale in Gold Beach Oregon
GOLD BEACH OREGON: You've found us! And that's one of the beauties of this place: It takes a certain spirit to discover Gold Beach.Located on the Southern Oregon Coast, Gold Beach is a seaside town, a river town, and a forest/mountain town. Where the Rogue River meets the Pacific Ocean, you'll find a taste of the Pacific Northwest that you might have thought no longer existed.It's probably one of the best places in the world to do nothing, like walking along a sandy beach just clearing your head. Or sitting on a gusty bluff, watching clouds go by. Gazing into a tidepool for what seems like hours, till that starfish finally moves on. Maybe casting a line with no thought at all except what's in that calm pool on the other bank.
Gold Beach has that kind of effect on you; it's just the best escape.
On the other hand, it's also one of the Northwest's choicest bases for launching yourself into about anything you've been meaning to do "someday"? whitewater jet boating, kayaking, windsurfing, wilderness mountain hiking or biking, or maybe just seeing an eagle, otter or bear that's not in a pen. There's magic to that, and something really magical about knowing it's like this here all the time.
We don't have a theme park or shopping mall in Gold Beach. Travelers who stop and stay tend to be of a like kind: people who appreciate really getting away. People who think nature is the greatest show on earth, and want their kids to be amazed, too.
The Southern Coast of Oregon is a place where things still are. Wilderness is still just that and fiercely protected. Getting a permit to hike may strike some as a bother, till you're on that trail surrounded by silence. Limited access to the wild and scenic sections of the Rogue doesn't seem fair if you're the one who doesn't get on, but makes perfect sense once you're gliding downriver between sheer basalt canyon walls.
Here's the thing about Gold Beach: There aren't a lot of people here, and that probably makes the biggest difference. You don't waste precious time in traffic, waiting in lines or dealing with folks who'd rather be someplace else. Its easy-going.
So whether you're looking to slow down or speed up, find your getaway here.
 
Sorry we are experiencing system issues. Please try again.