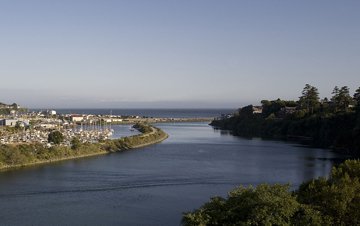 WELCOME to the Southern Oregon Coast!
ABOUT BROOKINGS-HARBOR:
Nestled on the southernmost Oregon Coast, at the heart of America's Wild Rivers Coast, between the breathtaking scenery of the Oregon Coastal Range and the Pacific Ocean, the community of Brookings-Harbor offers an incomparable quality of life.
Our Brookings-Harbor Coastal area is the heart of Mother Nature and a pleasant drive to city amenities. Our area is known for our friendly seaside community, the beautiful mountains often overlooking spectacular ocean vistas, majestic redwoods, combined with scenic & pristine rivers.
The #1 reasons why people gravitate to our area is our unspoiled beaches and exquistly beautiful coastlines, a place you will find some of the best weather and recreation on the west coast…YOU have chosen to seek a spectacular and yet still affordable coastal community to invest in!
As the largest community in Curry County, with a population of approximately 14,000, spread over a fifteen mile long bench of land along the Pacific Ocean, the Brookings-Harbor areas pristine, rugged, accessible and picturesque coastline, natural beauty, mild year-round climate and cultural activities attracts people from throughout the United States and abroad.
LOCATION:
The Brookings-Harbor area is located in the middle of America's Wild Rivers Coast, at the very southwestern corner of Oregon. We are boardered on the south by California's Del Norte County, on the west by the Pacific Ocean, on the east by the Siskiyou National Forest, which includes the Kalmiopsis Wilderness Area, and on the north by the Cape Sebastian headland. We are the southern gateway to the fabled, beautiful and world-famous Oregon Coast. Our Curry County coastline is generally acknowledged as the most pristine, ruggedly spectacular, pictureques and accessible coastline on all of the West Coast.
CLIMATE:
Our mild climate is extraordinary! Overlooking the Pacific Ocean, protected by the Cape Ferrelo headland, warmed by the "Chetco effect" and facing south to catch the sunshine, the Brookings area enjoys a "Banana Belt" reputation along the Oregon Coast, and allows the community to call itself "The Home of Winter Flowers." However, conditions can vary just a few miles from elevation, wind conditions and the moderating influence of the ocean's stable temperatures.
Average Temperature:
December: 42-55 degrees
July: 51-67 degrees
Average Annual Rainfall: 73.44 Inches
Average number of days with measurable precipitation: 142 days per year
Average Growing Season (Lows above 36F): 250 days a year, mid-April to mid-November.
POPULATION:
A community that continues to grow…
As a result of its mild climate, natural beauty and relaxed pace of life our community continues to grow. The Brookings-Harbor community has the highest percentage of retirees in the state.
Population (2005 Estimates)
Source: Portland State University
Curry County 21,190
City of Brookings 6,050
Brookings-Harbor Area (Estimated)
(Pistol River to California Boarder)
14,000
HOUSING STATISTICS:
Tax rates vary depending on service code area.
Contact the Curry Country Assessors Office for an accurate property tax structure.
WORK FORCE:
Curry County showed a positive job growth of nearly 10% between 2000 and 2005, according to the Oregon Employment Division.
By industry, the fastest growing job sectors (all above 10% growth) were:
Construction
Financial Activities
Health Care
Educational and Healt Services
Proffessional and Business Services
Trade, Transportation and Utilities
Leisure and Hospitality
Projected employment openings and growth for 2004-2014 Coos and Curry Counties according to the Oregon Employment Department, will be strongest (more than 500 jobs) in the following industries:
Service
Office and Administrative Support
Professional and Related
Sales and Related
Transportation and Material Moving
Health Care
Management, Business and Financial
HEALTH CARE:
The Bookings-Harbor area boasts a high number of physicians per capita, working out of well equipped medical clinics. In addition to many fulltime primary care personnel, a wide variety of specialists from other communities hold regular office hours in Brookings-Harbor area. The community also has a wide variety of health support groups meeting and training on a regular basis, from weekly 12-step programs to the annual American Society Relay for Life.
Several residential care facilities are available, as well as in-home nursing care services. Cal-Ore Life Flight Ground and Air Ambulance provides excellent emergency medical services and transporation. Brookings-Harbor has access to hospitals in Gold Beach and Crescent City, both approximately a 30-minute drive. An annual Health Fair in January spotlights the variety of health-care services available in the community.
AIRLINES:
Crescent City, CA (30 minutes south of Brookings): United Express with direct service to Eureka/Arcata, Sacramento & San Francisco.
Other airports:
Eureka/Arcata, CA (90 minutes south),
North Bend, OR (2 hours north)
Medford, OR (2.5 hours east)
AIRPORTS (General Aviation)
Brookings Airport
Runway length: 2900 feet 12/30
Elevation: 500 feet above sea level
Fuel Available-self service, 24 hours.
Gold Beach Airport
Runway length: 3200 feet 16/34
Elevation: 16 feet above sea level
Fuel Available
Highway Access:
Direct access to Highway 101, north and south, and 10 miles to Highway 197 for a connection east to Interstate 5 at Grants Pass, Oregon, 100 miles away.
Distances (Ground Miles)
Ashland, Oregon
Coos Bay, Oregon
Crescent City, Calif
Eugene, Oregon
Eureka, Calif
Gold Beach Oregon
Grants Pass, Oregon
Medford, Oregon
Portland, Oregon
Redding, California
Reno, Nevada
Sacramento, Calif
Salem, Oregon
San Francisco, Calif
Seattle, Washington
146 miles
107 miles
27 miles
216 miles
92 miles
30 miles
105 miles
134 miles
330 miles
272 miles
545 miles
412 miles
272 miles
408 miles
489 miles
 
Sorry we are experiencing system issues. Please try again.