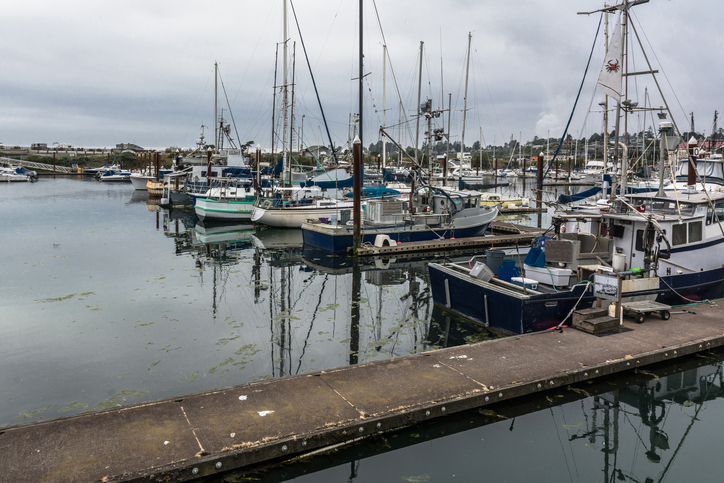 Port Orford is a city in Curry County, located north of Gold Beach between the Siskiyou National Forest and the Pacific Ocean. It's the oldest town on the Oregon coast, and had its beginnings in 1881 as a fort set up to protect gold miners in the area.
In the early 1900s, the city served as a port for lumber shipping and fishing. With the decline of the lumber industry, Port Orford has evolved to become the small fishing village and popular holiday destination that it is today.
Port Orford is now mostly managed by volunteers who work hard to contain the city's urbanization and preserve its pristine natural beauty and small-town charm.  
Living in Port Orford
Located above an open water bay, Port Orford is rich in natural wonders that include the Pacific Ocean, numerous waterways, and thick forests that provide breathtaking views and exciting outdoor opportunities.
Residents include artists, fishermen, and retirees who all benefit from the city's scenic tranquility. It's a favorite destination of sport fishers who come here for the excellent salmon and steelhead fishing.
On any given day, you will find people fishing on lakes and rivers, hiking or biking on picturesque trails, simply relaxing on the beach, or engaging in various water activities like windsailing, kayaking, and boating.
Port Orford also has a rich arts and culture scene. The city is filled with historic sites and landmarks, some dating back to the early Native American settlements. It has several galleries run by a community of world-class artists, as well as charming gift shops offering unique merchandise.
Port Orford Real Estate
With its gorgeous views and simmering energy, Port Orford is a great place to call home. Real estate in the city offers something for everyone, from affordable starter homes to luxury estates. You have a choice of beautiful oceanfront properties, as well as charming homes built amid lush forests, beside sparkling rivers and lakes, or right in the middle of town.
Waterfront homes, whether near the ocean, a lake or river, command the highest prices. Sitting on spacious lots sized as much as 7 acres, these homes boast top-of-the-line features and amenities and great access to the nearby body of water.
More affordable homes are found inland in a wide array of sizes, prices and architectural styles. They come with spacious indoor areas and large yards surrounded by vast open land or thick forests.
If you're looking to build your dream home from the ground up, you will find a number of vacant land and lots in some of the most desirable locations in the city.
Attractions and Amenities
Port Orford has a wealth of attractions and amenities that include:
Patrick Hughes House and Ranch

– Built in the late 1800s, this historic landmark captures early life in the city, and includes a small private church and cemetery.
Port of Port Orford

– The port offers spectacular views of the ocean as well as excellent diving, fishing, and crabbing.
Humbug Mountain State Park

– Open to campers, this area offers a unique ocean and mountain experience.
Salmon and steelhead fishing

in such places as Elk and Sixes Rivers, Garrison Lake, and Laird Lake.
Cape Blanco State Park

– Found just outside Port Orford, you will find the Oregon coast's oldest lighthouse here, as well as a horse camp, campgrounds, and trails with ocean views.
Battle Rock Park

– This huge rock formation was the site of the historic battle between the Tutuni people and nine white men who were tasked to start a colony in the area.
Restaurants

– The restaurants in Port Orford are known for their excellent food and stunning views. Not to be missed are the Redfish restaurant, the Crazy Norwegian's Fish and Chips, and Siren's Cove Café.
Sorry we are experiencing system issues. Please try again.